Steel Drum Players in Florida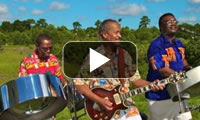 Florida's Most Popular Steel Drum Band
Are you looking for great music and entertainment for your beach wedding ceremony, reception, corporate event, convention or party? Do you want entertainers who create excitement and a happy mood with music that's great for any age? Call RythmTrail Caribbean Steel Drum Band!
RythmTrail is the most unique and highly sought-after Caribbean steel drum band in Florida, because each member of RythmTrail are actual Caribbean Island natives, with more than 20 years of playing experience. With just a few simple beats, RythmTrail can transport you to paradise.
RythmTrail offers these distinct advantages:
Variable band size, from a solo act to four musicians or more. See Other Acts
Versatile repertoire, including Caribbean steel drum music, calypso, soca and reggae
Personalized play lists to enhance the mood of your event, including romantic, festive and even dramatic
Available to travel nationwide and internationally
Caribbean steel drum music that is appropriate for all ages and audiences, and welcomed at weddings, corporate events, conventions and parties
Each client is provided with services tailored specifically for their occasion
RythmTrail Caribbean Steel Drum Band plays at more than 300 events annually in Florida and around the nation. Contact RythmTrail today to discuss your event and needs by calling 866-495-4522! You can also request a quote online at your convenience. They'll make your next occasion an unforgettable island experience.
Steel Drum Bands | Some of the Cities we Serve
City of Jacksonville, Town of Miami, City of Tampa. Just to name a few.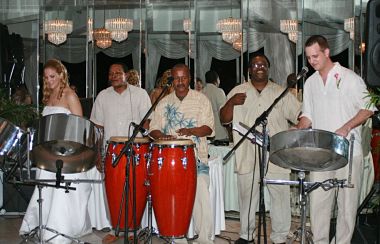 Recent review of live steel drum band & steel drum players. Steel drum music at Florida beach weddings & other Event
What an amazing job! Everyone loved the steel drum!! Arrived to the venue early and was ready to perform. Fun & Professional and I will certainly book again for future events!! Thanks so Much! :)
Teri 
Steel Drum Music at Corporate Reception, Tampa FL May 16 2012
Found the artist very respectful, kind and courteous He was an excellent performer and really set the mood for our Luau theme party. He was set up to go almost an hour before he was supposed to, and started playing almost 30 mins before I had asked him to (which was a great thing). He was easy to work with, and knew all the songs I would have expected him to perform. He commanded a stage presence and was very friendly. I would definitely rehire Steel Drum Band RythmTrail for any other Beach/Caribbean themed party we ever have. Very professional company and easy to work with. Very good in staying in contact with there clients and the online automated system for placing a deposit and paying for the event is very simple and easy to use.
Best Regards,
Jason Shapiro
Steel Drum Music at college fraternity Beach Caribbean themed party, Tallahassee Florida Mar 29 2013
Ephraim, We want to thank you for your outstanding service at our daughter's wedding. You were prompt, courteous, and professional. We all truly enjoyed the music. My only regret is I should have asked if you would stay and extend your playing since it was enjoying and set the tone
Thanks so much and we loved the music
Debbie Palmer
Steel Drum Music at Wedding Ceremony & Cocktail Hour Reception, Ponte Vedra Beach Florida Jan 02 2013
We were *very* pleased with our whole RythmTrail experience. Our performer Lawrence called to confirm that he was on his way the day of -which gave us piece of mind. He was prompt, friendly and played a great variety of songs. The volume was perfect: the guests could converse comfortably and still enjoy the live music. It made for a wonderful event and we would highly recommend RythmTrail Steel Drum Band!
Thank you.
Happy New Year
Kristin
Steel Drum Music at Memorial Party Event, Naples FL, Dec 29 2012
I can't thank you enough for creating such a beautiful ambiance at the wedding. The music was so fun and amazing! Everyone loved the performance and it really made me so happy to walk down the aisle to such great music. It really was wonderful! Thank you so much! I will recommend you to anyone who would like beautiful music played at their wedding! Thank you again!
Laura St Pierre Campbell
Steel Drum Music at Beach wedding Ceremony, Ponce Inlet FL, Nov 18 2012
We had one person on steel drums from RythmTrail for our family reunion at Tuckaway Shores Resort and couldn't have been more pleased. Everyone enjoyed his music and he was extremely friendly and never hurried to leave at 9pm. I would highly recommend this group to anyone interested in steel drums for that tropical Caribbean ambiance.
Jacqui Mcphillips
Steel Drum Music at Family Reunion, Indialantic FL, Aug 11 2012
I just want to thank Ephraim from RythmTrail for a job well done. He returned every phone call, replied to every email and was punctual on the day of our event. The music was absolutely perfect! I wouldn't think twice about having him perform at another event.
Thank you for making my special day extra special.
Denise
Steel Drum Music at Beach Wedding Ceremony, Atlantic Beach, Florida Jul 27 2012
Hi Ephraim –
Thank you so much for providing such a fabulous time at our wedding – the music was fantastic, fun and a surprise for our guests.
I have always loved the sound of the steel drum but was not sure if it would work well in a wedding environment – once I heard you start I knew I had made the right choice. Your professionalism is a stand out in your business….planning and choosing music via email could have been a problem – with your group it was a pleasant surprise.
Thank you again!
Tammy.
Steel Drum Band at Wedding Ceremony, Cocktail Hour & Reception, Mission Inn Resort, Howey in the Hills FL Jul 13 2012
Dear Ephraim
Eric and I would like to give you huge thanks for playing at our wedding 7/8/12. I personally appreciated you were on time and you played beautifully. My guests can't stop talking about how much they enjoyed your music during the cocktail hour and later on when you played "Is This Love" for Eric and I alone as the sun set! It was a memory for a lifetime! May God continue blessing you.
Sincerely,
Eric and Giselle Perez!
Steel Drum Band at Wedding Ceremony & Cocktail Hour Reception, Key Largo Bay Marriott, Key Largo FL Jul 08 2012
Ephraim thank you so much for playing during our wedding and also DJ for the reception!! Everyone had so much fun and are still talking about your talent!! It was an evening to remember!
Vicky Berrier
Steel Drum Band at Beach Wedding, Shipyard Hilton Head, South Carolina May 27 2012
Ephraim was great! One of the greatest fears with a destination wedding is hoping that everyone will come through. Ephraim was on time, professional and very entertaining for us and our guests. Having him was a unique addition to our wedding we will never forget, and we would highly recommend him to anyone. Everyone absolutely loved him! 
Again thank you so much for making our wedding a day we'll never forget!! 
Jason Mitchell
Steel Drum Band at Beach Wedding, Miramar Beach, Florida April 09 2012
The Steel Drum performance was wonderful. Everyone thoroughly enjoyed it!
Thank you, 
Susan Doane 
Steel Drum Band at Community Picnic Event, Nokomis FL April 1 2012
Dear Ephraim,
When our dear friend lost his battle with cancer at age 42 we were left to grapple both with his loss and with his wish not to have a funeral or memorial service. Instead we decided to throw a party in celebration of his life, and his love of cruise vacations provided the theme for the evening. I was apprehensive about hiring a steel drum band because I didn't want the occasion to be too over-the-top, or to seem disrespectful.  When you came to set up and we discussed the situation I could tell immediately that you "got it". We couldn't have been more thrilled with your professionalism and with your sensitivity toward the occasion. You set exactly the right tone throughout the evening, giving us just the atmospheric cruise ship "pool deck" feel that we wanted, and that our friend would have greatly enjoyed. Thank you so much for making the entire evening extremely special for all of us!
Sincerely, 
Stephen
Steel Drum Band at Cruise Theme Party, Orlando FL Mar 31 2012
Ephraim,
Thank you for providing great steel drum music at our Yachty Gras at the Marina at Ortega Landing. Everyone loved it and it certainly made the mood. I look forward to having you play here again soon!
Warren Hickernell
Marina at Ortega Landing
Steel Drum Music at Mardi Gras Party, Jacksonville Beach FL Mar 17 2012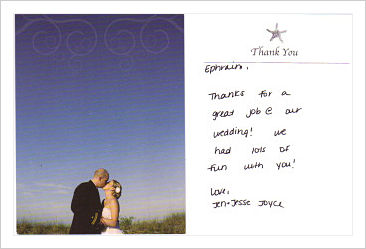 We used Rhythm Trail as a focal point for out Trade Show booth. Dusty, was fantastic at not only working the crowd, engaging our customers, posing for photographs, but his music playing during our Grand Entrance really drew attention to our company. We will definitely use your services again!
Thank you.
Leslie Yellin
Executive Vice President
Multipet International Inc.
Steel Drum Music at Global Pet Show, Orlando FL Convention Center Mar 1 2012
Hello Mr. Ephraim (Steel Drum Band RythmTrail)
Just AMAZING presentation, You put the seasoning to my Party... Serious people to negotiate, flexible, no hidden costs. Made my party the best, definitely hire them again ..THANKS Until next time .. We Love U!!!
Ellen & Manuel Suarez B.day Party
Steel Drum Band at Birthday Party Altamonte Springs Florida Feb 18 2012
Ephraim gave us an excellent performance at our baby shower celebration. Everyone asked us, "where did you find him, he is great!" It was not too loud - not too quiet. It was perfect for our celebration. I could not ask for anything more.
W. Benenati - Attorney at Law
Steel Drum Band at Baby Shower, Winter Park Florida Feb 18 2012Hey Ephraim! Thank you so much for the superb job you did for our wedding! The guests all loved your playing as much as we did, and your version of the love song from The Princess Bride was beautiful!
Nicki Colling
Steel Drum Music at Beach Wedding Ceremony & Cocktail Hour Reception - Islander Beach Resort, Islamorada Florida Feb 17 2012Ephraim made our cocktail hour. We hired him to play for our wedding cocktail hour and it was so relaxing and enjoyable. Our guests LOVED his music. I made a special request and he made sure to play it for us. He is very professional, was on time and really talented! He made our cocktail hour and we wished we could have listened to him longer! Very beautiful music! 
Maria
Steel Drum Music at Wedding Cocktail Hour B Ocean Hotel Fort Lauderdale FL Jan 14 2012Ephraim thanks for the steel drum music at my party. We had fun despite the weather, will call again next year.
Cheryl Fenton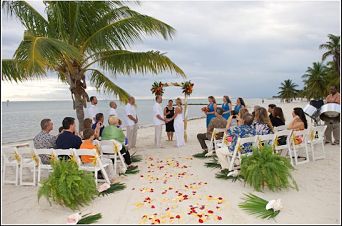 Steel Drum Band at Birthday Party Bonita Springs Florida Jan 6 2012 Thank you so much for your amazing performance at our New Years wedding at Paradise Cove in Orlando. The steel drums were a perfect addition to our outdoor ceremony and the DJ for the reception was great playing perfect music for our guests. I could not have been happier with the service you provided and would recommend this service to anyone!! Thanks again!
Geralyn and Justin McDonald
Steel Drum Music at Wedding Ceremony & Cocktail Hour, Paradise Cove Orlando Florida - Jan 01 2012RythmTrail played my 12/28 wedding reception and I could not be more happy! They were great at getting the crowd up and moving, incredibly talented, and played exactly the right songs. Everyone at the wedding raved about the music and had a wonderful time. My husband has a masters degree in music and was very impressed with their performance and was really excited when we were pulled up to play the steel drums. We would recommend them to anyone who wants a fun, unique band!
Leah Lavelle Rietveld
Steel Drum Music at Beach Wedding Ceremony, Cocktail Hour & Reception - St Pete Beach Florida Dec 28 2011Thank you for another great night of entertainment. We enjoyed your services and look forward to working with you again next year. Best regards,
Emily Kettler  Netpique, LLC
Steel Drum Christmas Music at Holiday Party, Palm Coast Florida - Dec 13 2011We were very pleased with the professionalism and talent of the Rhythm Trail Steel Drum band. They arrived on time to the venue and set up all of their own instruments and sound equipment. We had a duo and they played a large selection of Christmas music along with other popular songs. We appreciated their sensitivity to our conservative culture and we feel they greatly contributed to the atmosphere of our Caribbean Christmas theme. Thank you Ephraim!
Karla Baer Florida Hospital Zephyrhills
Steel Drum Music at Christmas Party, Zephyrills Florida - Dec 8 2011Ephraim the steel drum music was great, thanks for playing my favorite Big Mountain song. You Rock
Brian
Live Steel Drum Music at Beach Wedding , Miami Beach Florida - Dec 4 2011 We have used him for two private birthday parties. What a great show!!! We will continue using him in the future. Highly recommend him to anyone looking for a great show.
Karen & Greg Money, Heathrow, FL
Live Steel Drum Music at Birthday Party, Lake Mary Florida - Dec 3 2011Ephraim thank you again for your great talent and bringing a fresh new music of the steel drums of the Caribbean right into our Christmas party. Both Howard Bolos and myself loved your music and it really helped start our preparation for Christmas. We will hire you again. I hope to post your music on my facebook really soon.
Teresa DeMark
Christmas Steel Drum Music at Christmas Party , Cocoa Florida - Dec 2 2011
Hello RythmTrail
The Steel Drum music your performer provided were absolutely perfect background music for our outdoor event! It was exactly what we wanted and everyone enjoyed that added touch to our son's baptism party. We will definitely recommend you to friends and family.
Janet, Page Terrace Beachfront Resort- Treasure Island FL
Steel Drum Music at after Baptism Brunch, Clearwater Beach Florida - Nov 20 2011
RythmTrail played at our wedding at the Naples Beach Hotel recently and were fabulous! I can't say enough good things about them! All of our guests had a ball with them as they had a wide variety of music and infused their steel drums into the whole evening! I'd hire them in a minute! Thanks so much!
Jamie Buxton Williams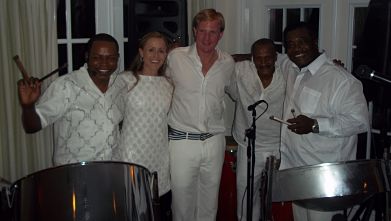 Steel Drum Beach Wedding at Naples Beach Hotel, Naples Florida - Nov 18 2011We couldn't have been more pleased with your performance at our cocktail last Monday. The music was great and set the mood for the event. We will definitely call for future events. Thanks again.
Larry 
Steel Drum Music at Corporate Event, Bradenton Florida - Nov 14 2011Ephraim, Thank you so much for playing the steel drums at our wedding ceremony and cocktail receptions. You helped to create a tropical vibe that I was looking for. We enjoyed your playing and had several compliments from our guests who all enjoyed it too. Thank you so much for sharing your talent with us and for being such a pleasure to work with.
Jodi Roark
Steel Drum Music at Beach Wedding Ceremony & Cocktail Hour Reception - Cocoa Beach Hilton Hotel, Cocoa Beach Florida Nov 12 2011
Hire Steel Drum Bands FL - Book Steel Drum Players in FL - Wedding Steel Drum Music Florida - Steel Drum Band FL - Steel Drum Player for hire
RythmTrail Steel Band Drum travels everwhere! Countrywide and Worldwide!